In addition to understanding the warning signs of inappropriate adult behavior and screening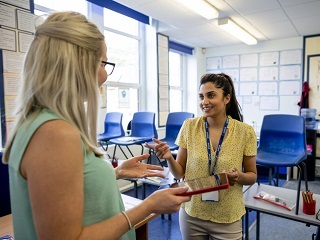 and selecting employees and volunteers, it is up to each of us as caring adults to monitor all environments, including activities involving technology. All environments and activities with children and youth should be supervised to ensure that proper policies and procedures are being followed to keep children and youth safe.
It is important to monitor all environments because child abusers look for ways to spend time alone with children. While grooming often happens in the open, abuse is more likely to occur in private. Effectively monitoring all ministries eliminates any opportunity for an adult to be alone with a child in an isolated area while in-person or online. Monitoring all ministries also provides the opportunity to be vigilant in identifying any behaviors or situations that must be addressed before they can escalate to abuse, or problematic situations that could condition children to more easily be abused.
How can we, as caring adults, monitor all in-person environments?
Maintain a healthy caution about any environment in which children are entrusted.
Identify secluded areas; lock empty rooms.
Develop policies (with the organization's leadership) and follow policies regarding the use of any area (open, secluded, off-site, etc.).
Don't permit children to enter staff-only areas.
Only meet with children where other adults can have open access (such as, in the sight or hearing of other adults, with the invitation that they check-in at any time for safety).
Perform consistent and random status checks (if status checks are performed at the same time every day, then people who do not have the best intentions could learn to anticipate that timeframe).
Make sure enough adults are involved in programs so that you have an appropriate ratio of adults to children.
Don't start new programs without the appropriate approval of the organization or leadership.
Encourage parental involvement, allowing parents to have proper access to all programs to evaluate safety.
How can we, as caring adults, monitor technology?
Always use sanctioned devices and accounts to communicate with youth—these should be sponsored by the organization.
Never "friend," "follow" or communicate with youth using your own personal accounts.
Always communicate with youth during appropriate time frames; i.e., if you wouldn't call the home at specific times, then you shouldn't text, call, message or email the youth, either.
Never take or post photos of youth without the proper approvals of both the organization and the youth's family—typically this is resolved through photo releases that are kept on file at the organization (even with permission, photos should only be posted on an organization-approved forum).
Install and use appropriate blocking/filtering software.
Include additional adult oversight for any communication or online meetings with children or youth—this helps to ensure that the interaction online doesn't become isolated.
We must maintain a healthy caution about any environment that involves children and youth—whether it is on the organization's property, at another location, or online. Meetings with children and youth should occur only in designated areas, open to the sight or hearing of others, where the observation of others is welcomed and encouraged. Proper oversight for all meetings and events must have adequate supervision and transparency. Even for an online meeting where minors will be participating, other adults should have the permission and ability to drop in safely and check in, just as they would in person.
Furthermore, one of the best security measures we can take is to frequently and openly maintain communication with children and youth about the latest evolving technology. It's important to discuss the risks, benefits, and how they can help keep themselves safe when using technology. Prior to learning how to drive, youth are taught the rules of the road and how to safety operate a vehicle. The same should be true when it comes to the use of technology. Youth should be taught how to use it in a safe manner, to protect themselves and others, and what to do if they need help, or feel scared or uncomfortable.
Recall the spirit of the five steps from the Protecting God's Children Program:
Know the Warning Signs of Adults (or, also referred to as, Know the Warning Signs)
Screen and Select Employees and Volunteers (or, Control Access through Screening)
Monitor All Environments, including Activities Involving Technology (or, Monitor All Ministries and Programs)
Be Attentive to Children and Youth (or, Be Aware of Child and Youth Behavior), and,
Communicate Your Concerns
Each of us can help prevent inappropriate situations and technology threats if the entire environment is being monitored at all times, and the remainder of the five steps are also being followed. Thank you for all that you do to contribute to a safe environment both within your organization, and within your entire community.
This article is the copyrighted property of National Catholic Services, LLC. All rights reserved.